Car Dollies - The Auto Dolly by Merrick Machine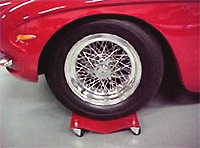 Car dollies are designed to ease and streamline the process of moving a vehicle to and from the showroom or your garage when you are working on it, either for those that cannot or choose not to actually drive the vehicle. For this reason, there are a large number of different types of heavy-duty car dollies on the market – each offering a different size, weight rating, and shape to match the specific needs of your classic truck.
We have long carried and trusted Merrick Machine heavy-duty car dollies for our customers because of their high level of quality and wide range of options for both trucks and other types of vehicles including cars, boats, tractors, and motorcycles. We also carry their line of car dolly accessories.
The Benefits of Choosing a Merrick Machine Auto Dolly
Merrick Machine heavy-duty car dollies are designed to allow a single person to move very large objects, including a vintage truck. This will allow you to optimize and utilize your work space as efficiently as possible, using the car dolly to move your vehicle to and from that space whenever needed. Whether you are working on your truck only on the weekends and have limited working space or you need to shift positioning in your garage periodically, their auto dollies give you that option.
When using Merrick Machine auto dollies, a dolly is places under each tire of the vehicle. A standard auto dolly is rated to hold up to 1,500lb, meaning a total weight with all four tire of 6,000lb. There are three sizes, however, meaning you can upgrade to the heavy duty auto dollies that can handle up to 2,500lb per dolly (or 10,000lb total).
Choose the Right Auto Dolly for Your Needs
If you need a new auto dolly set for your classic car or truck, consider a Merrick Machine auto dolly from Carolina Classic Trucks. We offer some of the lowest prices on the market and free shipping on your order. We also sell a number of car dolly accessories. If you don't see the specific size or type of dolly you need in the list below, contact us and ask to speak with a service expert who can help you find one that fits your needs.