Truck Parts & Accessories at Carolina Classic Trucks
At Carolina Classic Trucks, we specialize in the parts and accessories you need for your truck restoration project, whether you drive a Jeep, Chevy, Ford, Dodge, Toyota, Nissan, or another make. We're here to help you achieve truck restoration success. Email us if you don't see the part you are searching for.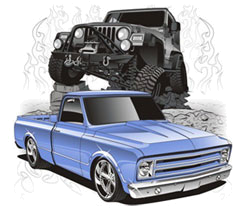 When it comes to your truck, you never want to buy cheap parts for your restoration or repair projects. Everybody knows the value of quality parts is that they keep your truck operating safely and at a high level for many miles to come. When you come to Carolina Classic Trucks, you'll find the Internet's most extensive resource of quality auto parts for trucks and cars. Find the best parts and accessories for your truck restoration including off-road tires, repair panels and wiring harnesses. In the same place, you can also purchase great truck parts like cowl hoods, custom wheels, rust repair panels, and brake proportioning valves. You can even find important accessories like recovery gear and wheel dollies. Every part sold by Carolina Classic Trucks is made by quality manufacturers that provide reliable, long-lasting, and affordable products.
We care about your vehicles and want that to show in the value of every product found on this site.