XD Series Rockstar II Wheels
New Style - Rockstar II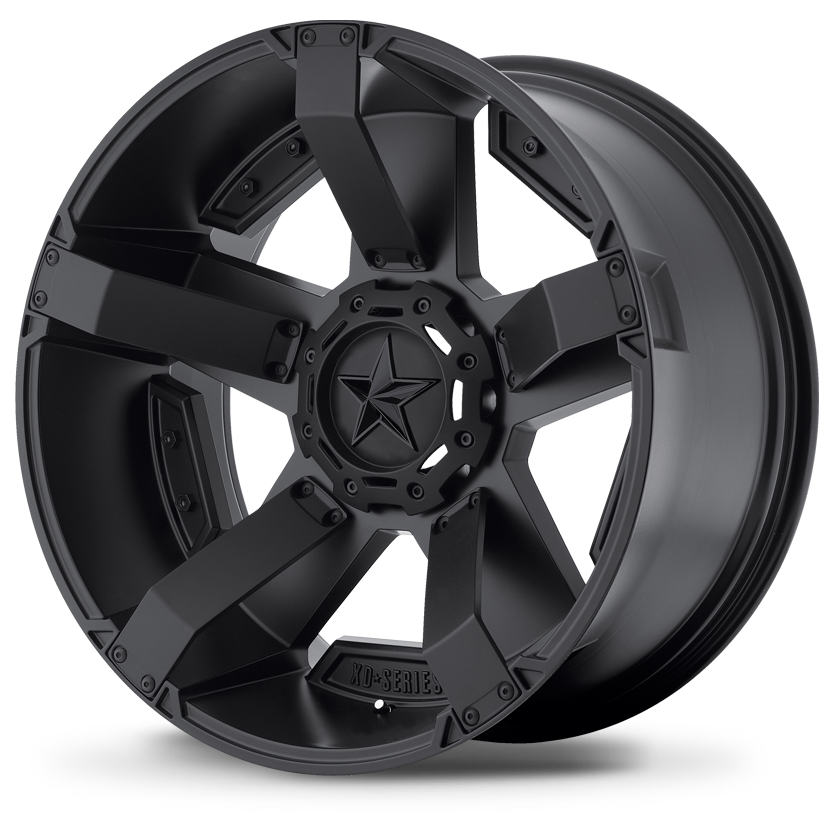 The New XD Rockstar II wheels are the latest redesign of the popular original Rockstar wheels. The Rockstar II wheels are the 811 Series, which has removable plastic ribs that can be painted to match (or contrast) your truck. It provides a unique 3-dimensional look to your wheel. The Rockstar II is construted of cast aluminum and comes in a matte black finish with glossy black accents.
We're so excited to see you in a set of Rockstar II wheels that we'll match anyadvertised price on the same model wheels from another store. At Carolina Classic Trucks, you'llalways find unbeatable prices on all of our truck wheels, including the Rockstar II.
The Rockstars are coming in and are selling as fast as they come it. We are currently filling backorders for these so order today to get on the list!!
The Rockstar wheels are shown below and have all of the specifications you need to choosethe correct wheel for your vehicle. Make sure to check the size, backspacing/offset, and bolt pattern tochoose the wheel you need. If you would like assistance please email usand we'll be glad to help.
FREE SHIPPING
Please note: We cannot sell a wheel that is smaller than the factory wheel on your vehicle.
Image
Part #
Finish
Size
Bolt Pattern
Backspacing
Offset
Price
XD81121000724N
Matte Black With Accents
20" x 10"
BLANK
Blank
4.56"
-24 mm
$311.00
XD81121035724N
Matte Black With Accents
20" x 10"
5x5.0/5.5
5x127.00/5x139.70
4.56"
-24 mm
$462.00
XD81121067724N
Matte Black With Accents
20" x 10"
6x135/5.5
6x135.00/6x139.70
4.56"
-24 mm
$462.00
XD81121080724N
Matte Black With Accents
20" x 10"
8x6.5
8x165.10
4.56"
-24 mm
$462.00
XD81121086724N
Matte Black With Accents
20" x 10"
5x5.5/150
5x139.70/5x150.00
4.56"
-24 mm
$462.00
XD81121087724N
Matte Black With Accents
20" x 10"
8x170
8x170.00
4.56"
-24 mm
$462.00
XD81121088724N
Matte Black With Accents
20" x 10"
8x180
8x180.00
4.56"
-24 mm
$462.00
XD81121200544N
Matte Black Machined With Accents
20" x 12"
BLANK
Blank
4.77"
-44 mm
$310.00
XD81121200744N
Matte Black With Accents
20" x 12"
BLANK
Blank
4.77"
-44 mm
$336.00
XD81121235744N
Matte Black With Accents
20" x 12"
5x5.0/5.5
5x127.00/5x139.70
4.77"
-44 mm
$467.00
XD81121267744N
Matte Black With Accents
20" x 12"
6x135/5.5
6x135.00/6x139.70
4.77"
-44 mm
$467.00
XD81121275844N
PVD with Matte Black Accents
20" x 12"
7x150
7x150.00
4.77"
-44 mm
$470.00
XD81121280744N
Matte Black With Accents
20" x 12"
8x6.5
8x165.10
4.77"
-44 mm
$467.00
XD81121287744N
Matte Black With Accents
20" x 12"
8x170
8x170.00
4.77"
-44 mm
$467.00
XD81122200544N
Matte Black Machined With Accents
22" x 12"
BLANK
Blank
4.77"
-44 mm
$378.00
XD81122243744N
Matte Black With Accents
22" x 12"
5x5.0/135
5x127.00/5x135.00
4.77"
-44 mm
$627.08
XD81122254744N
Matte Black With Accents
22" x 12"
5x4.5/5.0
5x114.30/5x127.00
4.77"
-44 mm
$478.00
XD81122900512
Matte Black Machined With Accents
22" x 9.5"
BLANK
Blank
5.72"
12 mm
$371.00
XD81122900735
Matte Black With Accents
22" x 9.5"
BLANK
Blank
6.63"
35 mm
$331.84
XD81124200744N
Matte Black With Accents
24" x 12"
BLANK
Blank
4.77"
-44 mm
$459.00
XD81129000518
Matte Black Machined With Accents
20" x 9"
BLANK
Blank
5.71"
18 mm
$265.00
XD81129000530
Matte Black Machined With Accents
20" x 9"
BLANK
Blank
6.18"
30 mm
$311.10
XD81129000700
Matte Black With Accents
20" x 9"
BLANK
Blank
5.00"
0 mm
$324.00
XD81129000712N
Matte Black With Accents
20" x 9"
BLANK
Blank
4.53"
-12 mm
$324.00
XD81129000718
Matte Black With Accents
20" x 9"
BLANK
Blank
5.71"
18 mm
$324.00
XD81129000730
Matte Black With Accents
20" x 9"
BLANK
Blank
6.18"
30 mm
$324.00
XD81129017718
Matte Black With Accents
20" x 9"
5x4.5/120
5x114.30/5x120.00
5.71"
18 mm
$340.00
XD81129017730
Matte Black With Accents
20" x 9"
5x4.5/120
5x114.30/5x120.00
6.18"
30 mm
$405.00
XD81129035700
Matte Black With Accents
20" x 9"
5x5.0/5.5
5x127.00/5x139.70
5.00"
0 mm
$405.00
XD81129035712N
Matte Black With Accents
20" x 9"
5x5.0/5.5
5x127.00/5x139.70
4.53"
-12 mm
$405.00
XD81129035718
Matte Black With Accents
20" x 9"
5x5.0/5.5
5x127.00/5x139.70
5.71"
18 mm
$405.00
XD81129043712N
Matte Black With Accents
20" x 9"
5x5.0/135
5x127.00/5x135.00
4.53"
-12 mm
$405.00
XD81129054712N
Matte Black With Accents
20" x 9"
5x4.5/5.0
5x114.30/5x127.00
4.53"
-12 mm
$316.00
XD81129054718
Matte Black With Accents
20" x 9"
5x4.5/5.0
5x114.30/5x127.00
5.71"
18 mm
$340.00
XD81129054730
Matte Black With Accents
20" x 9"
5x4.5/5.0
5x114.30/5x127.00
6.18"
30 mm
$405.00
XD81129058730
Matte Black With Accents
20" x 9"
5x150
5x150.00
6.18"
30 mm
$405.00
XD81129066730
Matte Black With Accents
20" x 9"
6x135/5.5
6x135.00/6x139.70
6.18"
30 mm
$405.00
XD81129067700
Matte Black With Accents
20" x 9"
6x135/5.5
6x135.00/6x139.70
5.00"
0 mm
$405.00
XD81129067712N
Matte Black With Accents
20" x 9"
6x135/5.5
6x135.00/6x139.70
4.53"
-12 mm
$405.00
XD81129067718
Matte Black With Accents
20" x 9"
6x135/5.5
6x135.00/6x139.70
5.71"
18 mm
$405.00
XD81129070718A
Matte Black With Accents
20" x 9"
6x4.5/5.5
6x114.30/6x139.70
5.71"
18 mm
$306.00
XD81129070730A
Matte Black With Accents
20" x 9"
6x4.5/5.5
6x114.30/6x139.70
6.18"
30 mm
$306.00
XD81129077718
Matte Black With Accents
20" x 9"
6x120
6x120.00
5.71"
18 mm
$340.00
XD81129078718
Matte Black With Accents
20" x 9"
6x120/5.5
6x120.00/6x139.70
5.71"
18 mm
$405.00
XD81129080712N
Matte Black With Accents
20" x 9"
8x6.5
8x165.10
4.53"
-12 mm
$405.00
XD81129080718
Matte Black With Accents
20" x 9"
8x6.5
8x165.10
5.71"
18 mm
$405.00
XD81129086700
Matte Black With Accents
20" x 9"
5x5.5/150
5x139.70/5x150.00
5.00"
0 mm
$405.00
XD81129086712N
Matte Black With Accents
20" x 9"
5x5.5/150
5x139.70/5x150.00
4.53"
-12 mm
$405.00
XD81129086718
Matte Black With Accents
20" x 9"
5x5.5/150
5x139.70/5x150.00
5.71"
18 mm
$405.00
XD81129087712N
Matte Black With Accents
20" x 9"
8x170
8x170.00
4.53"
-12 mm
$405.00
XD81129087718
Matte Black With Accents
20" x 9"
8x170
8x170.00
5.71"
18 mm
$405.00
XD81129088712N
Matte Black With Accents
20" x 9"
8x180
8x180.00
4.53"
-12 mm
$405.00
XD81129088718
Matte Black With Accents
20" x 9"
8x180
8x180.00
5.71"
18 mm
$405.00
XD81178000510
Matte Black Machined With Accents
17" x 8"
BLANK
Blank
4.89"
10 mm
$342.00
XD81178000535
Matte Black Machined With Accents
17" x 8"
BLANK
Blank
5.88"
35 mm
$342.00
XD81178000710
Matte Black With Accents
17" x 8"
BLANK
Blank
4.89"
10 mm
$259.00
XD81178000735
Matte Black With Accents
17" x 8"
BLANK
Blank
5.88"
35 mm
$259.00
XD81178000810
PVD with Matte Black Accents
17" x 8"
BLANK
Blank
4.89"
10 mm
$413.58
XD81178017710
Matte Black With Accents
17" x 8"
5x4.5/120
5x114.30/5x120.00
4.89"
10 mm
$301.34
XD81178017735
Matte Black With Accents
17" x 8"
5x4.5/120
5x114.30/5x120.00
5.88"
35 mm
$297.00
XD81178035510
Matte Black Machined With Accents
17" x 8"
5x5.0/5.5
5x127.00/5x139.70
4.89"
10 mm
$240.00
XD81178035710
Matte Black With Accents
17" x 8"
5x5.0/5.5
5x127.00/5x139.70
4.89"
10 mm
$297.00
XD81178035810
PVD with Matte Black Accents
17" x 8"
5x5.0/5.5
5x127.00/5x139.70
4.89"
10 mm
$315.00
XD81178043710
Matte Black With Accents
17" x 8"
5x5.0/135
5x127.00/5x135.00
4.89"
10 mm
$297.00
XD81178050710
Matte Black With Accents
17" x 8"
5x5.0
5x127.00
4.89"
10 mm
$297.00
XD81178054710
Matte Black With Accents
17" x 8"
5x4.5/5.0
5x114.30/5x127.00
4.89"
10 mm
$297.00
XD81178054735
Matte Black With Accents
17" x 8"
5x4.5/5.0
5x114.30/5x127.00
5.88"
35 mm
$297.00
XD81178064735
Matte Black With Accents
17" x 8"
6x4.5
6x114.30
5.88"
35 mm
$247.00
XD81178065735
Matte Black With Accents
17" x 8"
6x5.0
6x127.00
5.88"
35 mm
$247.00
XD81178065835
PVD with Matte Black Accents
17" x 8"
6x5.0
6x127.00
5.88"
35 mm
$315.00
XD81178066735
Matte Black With Accents
17" x 8"
6x135/5.5
6x135.00/6x139.70
5.88"
35 mm
$297.00
XD81178067710
Matte Black With Accents
17" x 8"
6x135/5.5
6x135.00/6x139.70
4.89"
10 mm
$297.00
XD81178086710
Matte Black With Accents
17" x 8"
5x5.5/150
5x139.70/5x150.00
4.89"
10 mm
$297.00
XD81179000512N
Matte Black Machined With Accents
17" x 9"
BLANK
Blank
4.53"
-12 mm
$259.86
XD81179000712N
Matte Black With Accents
17" x 9"
BLANK
Blank
4.53"
-12 mm
$270.00
XD81179004712N
Matte Black With Accents
17" x 9"
5x4.5/4.75
5x114.30/5x120.65
4.53"
-12 mm
$307.00
XD81179035712N
Matte Black With Accents
17" x 9"
5x5.0/5.5
5x127.00/5x139.70
4.53"
-12 mm
$283.04
XD81179043712N
Matte Black With Accents
17" x 9"
5x5.0/135
5x127.00/5x135.00
4.53"
-12 mm
$307.00
XD81179050712N
Matte Black With Accents
17" x 9"
5x5.0
5x127.00
4.53"
-12 mm
$307.00
XD81179054712N
Matte Black With Accents
17" x 9"
5x4.5/5.0
5x114.30/5x127.00
4.53"
-12 mm
$307.00
XD81179067512N
Matte Black Machined With Accents
17" x 9"
6x135/5.5
6x135.00/6x139.70
4.53"
-12 mm
$216.00
XD81179067712N
Matte Black With Accents
17" x 9"
6x135/5.5
6x135.00/6x139.70
4.53"
-12 mm
$307.00
XD81179080512N
Matte Black Machined With Accents
17" x 9"
8x6.5
8x165.10
4.53"
-12 mm
$292.80
XD81179080712N
Matte Black With Accents
17" x 9"
8x6.5
8x165.10
4.53"
-12 mm
$251.00
XD81179086712N
Matte Black With Accents
17" x 9"
5x5.5/150
5x139.70/5x150.00
4.53"
-12 mm
$307.00
XD81179087712N
Matte Black With Accents
17" x 9"
8x170
8x170.00
4.53"
-12 mm
$246.00
XD81179088512N
Matte Black Machined With Accents
17" x 9"
8x180
8x180.00
4.53"
-12 mm
$214.72
XD81189000500
Matte Black Machined With Accents
18" x 9"
BLANK
Blank
5.00"
0 mm
$284.26
XD81189000530
Matte Black Machined With Accents
18" x 9"
BLANK
Blank
6.18"
30 mm
$210.00
XD81189000700
Matte Black With Accents
18" x 9"
BLANK
Blank
5.00"
0 mm
$298.00
XD81189000730
Matte Black With Accents
18" x 9"
BLANK
Blank
6.18"
30 mm
$298.00
XD81189004700
Matte Black With Accents
18" x 9"
5x4.5/4.75
5x114.30/5x120.65
5.00"
0 mm
$342.00
XD81189017730
Matte Black With Accents
18" x 9"
5x4.5/120
5x114.30/5x120.00
6.18"
30 mm
$342.00
XD81189035700
Matte Black With Accents
18" x 9"
5x5.0/5.5
5x127.00/5x139.70
5.00"
0 mm
$342.00
XD81189043700
Matte Black With Accents
18" x 9"
5x5.0/135
5x127.00/5x135.00
5.00"
0 mm
$342.00
XD81189050700
Matte Black With Accents
18" x 9"
5x5.0
5x127.00
5.00"
0 mm
$342.00
XD81189054730
Matte Black With Accents
18" x 9"
5x4.5/5.0
5x114.30/5x127.00
6.18"
30 mm
$342.00
XD81189058730
Matte Black With Accents
18" x 9"
5x150
5x150.00
6.18"
30 mm
$342.00
XD81189064730
Matte Black With Accents
18" x 9"
6x4.5
6x114.30
6.18"
30 mm
$319.64
XD81189065530
Matte Black Machined With Accents
18" x 9"
6x5.0
6x127.00
6.18"
30 mm
$292.00
XD81189066730
Matte Black With Accents
18" x 9"
6x135/5.5
6x135.00/6x139.70
6.18"
30 mm
$342.00
XD81189067500
Matte Black Machined With Accents
18" x 9"
6x135/5.5
6x135.00/6x139.70
5.00"
0 mm
$243.00
XD81189067700
Matte Black With Accents
18" x 9"
6x135/5.5
6x135.00/6x139.70
5.00"
0 mm
$342.00
XD81189078700
Matte Black With Accents
18" x 9"
6x120/5.5
6x120.00/6x139.70
5.00"
0 mm
$342.00
XD81189080700
Matte Black With Accents
18" x 9"
8x6.5
8x165.10
5.00"
0 mm
$342.00
XD81189087700
Matte Black With Accents
18" x 9"
8x170
8x170.00
5.00"
0 mm
$342.00
XD81189088700
Matte Black With Accents
18" x 9"
8x180
8x180.00
5.00"
0 mm
$342.00