Fuel Anza One-Piece Wheels
The Fuel Anza wheels are the latest design in their popular one-piece, off-road series. Fuel Offroad's quality construction is unsurpassed, and they are noted for their wheel design as well. The Fuel Off-Road Anza wheel will make a nice addition to your truck, both from looks and usability. If you enjoy offroading, Fuel is the wheel for you. Order these high-performance truck wheels today!
Fuel Off-Road Anza Wheels feature either a matte black finish with an anthracite ring or machined finish with machined ring and are available in the following sizes: 15x8, 15x10, 16x8, 17x8.5, 18x9, 20x9, 20x10. Choose your size from the list below.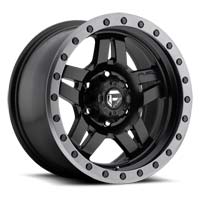 FREE SHIPPING
Please note: We cannot sell a wheel that is smaller than the factory wheel on your vehicle.
| Image | Part # | Finish | Size | Bolt Pattern | Backspacing | Offset | Price |
| --- | --- | --- | --- | --- | --- | --- | --- |
| | D11617901745 | Raw Machined | 17" x 9" | 8x170 | 4.5" | -14 mm | $484.00 |
| | D11617901845 | Raw Machined | 17" x 9" | 8x180 | 4.5" | -14 mm | $484.00 |
| | D11617907345 | Raw Machined | 17" x 9" | 5x5.0 | 4.5" | -14 mm | $484.00 |
| | D11617908245 | Raw Machined | 17" x 9" | 8x6.5 | 4.5" | -14 mm | $484.00 |
| | D11617908345 | Raw Machined | 17" x 9" | 6x5.5 | 4.5" | -14 mm | $484.00 |
| | D11617908545 | Raw Machined | 17" x 9" | 5x5.5 | 4.5" | -14 mm | $484.00 |
| | D11617908945 | Raw Machined | 17" x 9" | 6x135 | 4.5" | -14 mm | $484.00 |
| | D1161790R145 | Raw Machined | 17" x 9" | 6x6.5 | 4.5" | -14 mm | $484.00 |
| | D1161790R445 | Raw Machined | 17" x 9" | 5x5.5 | 4.5" | -14 mm | $385.00 |
| | D55715006537 | BD -Black Matte | 15" x 10" | 5x4.5 | 3.75" | -43 mm | $254.00 |
| | D55715007337 | BD -Black Matte | 15" x 10" | 5x5.0 | 3.75" | -43 mm | $175.00 |
| | D55715008337 | BD -Black Matte | 15" x 10" | 6x5.5 | 3.75" | -43 mm | $175.00 |
| | D55715008537 | BD -Black Matte | 15" x 10" | 5x5.5 | 3.75" | -43 mm | $193.00 |
| | D55715806537 | BD -Black Matte | 15" x 8" | 5x4.5 | 3.75" | -18 mm | $254.00 |
| | D55715807337 | BD -Black Matte | 15" x 8" | 5x5.0 | 3.75" | -18 mm | $165.00 |
| | D55715808337 | BD -Black Matte | 15" x 8" | 6x5.5 | 3.75" | -18 mm | $165.00 |
| | D55715808537 | BD -Black Matte | 15" x 8" | 5x5.5 | 3.75" | -18 mm | $168.00 |
| | D55716806545 | BD -Black Matte | 16" x 8" | 5x4.5 | 4.5" | 1 mm | $190.00 |
| | D55716807345 | BD -Black Matte | 16" x 8" | 5x5.0 | 4.5" | 1 mm | $190.00 |
| | D55716808345 | BD -Black Matte | 16" x 8" | 6x5.5 | 4.5" | 1 mm | $259.00 |
| | D55717856545 | BD -Black Matte | 17" x 8.5" | 5x4.5 | 4.5" | -6 mm | $225.00 |
| | D55717857345 | BD -Black Matte | 17" x 8.5" | 5x5.0 | 4.5" | -6 mm | $325.00 |
| | D55717857350 | BD -Black Matte | 17" x 8.5" | 5x5.0 | 5" | 6 mm | $325.00 |
| | D55717858345 | BD -Black Matte | 17" x 8.5" | 6x5.5 | 4.5" | -6 mm | $325.00 |
| | D55717858350 | BD -Black Matte | 17" x 8.5" | 6x5.5 | 5" | 6 mm | $325.00 |
| | D55717858545 | BD -Black Matte | 17" x 8.5" | 5x5.5 | 4.5" | -6 mm | $259.00 |
| | D55717858950 | BD -Black Matte | 17" x 8.5" | 6x135 | 5" | 6 mm | $225.00 |
| | D55718901750 | BD -Black Matte | 18" x 9" | 8x170 | 5" | 1 mm | $286.00 |
| | D55718901857 | BD -Black Matte | 18" x 9" | 8x180 | 5.75" | 20 mm | $286.00 |
| | D55718905650 | BD -Black Matte | 18" x 9" | 5x150 | 5" | 1 mm | $286.00 |
| | D55718905657 | BD -Black Matte | 18" x 9" | 5x150 | 5.75" | 20 mm | $286.00 |
| | D55718907350 | BD -Black Matte | 18" x 9" | 5x5.0 | 5" | 1 mm | $376.00 |
| | D55718908250 | BD -Black Matte | 18" x 9" | 8x6.5 | 5" | 1 mm | $260.00 |
| | D55718908257 | BD -Black Matte | 18" x 9" | 8x6.5 | 5.75" | 20 mm | $260.00 |
| | D55718908350 | BD -Black Matte | 18" x 9" | 6x5.5 | 5" | 1 mm | $376.00 |
| | D55718908357 | BD -Black Matte | 18" x 9" | 6x5.5 | 5.75" | 20 mm | $286.00 |
| | D55718908550 | BD -Black Matte | 18" x 9" | 5x5.5 | 5" | 1 mm | $259.00 |
| | D55718908557 | BD -Black Matte | 18" x 9" | 5x5.5 | 5.75" | 20 mm | $260.00 |
| | D55718908950 | BD -Black Matte | 18" x 9" | 6x135 | 5" | 1 mm | $376.00 |
| | D55718908957 | BD -Black Matte | 18" x 9" | 6x135 | 5.75" | 20 mm | $259.00 |
| | D55720007347 | BD -Black Matte | 20" x 10" | 5x5.0 | 4.75" | -18 mm | $457.00 |
| | D55720008347 | BD -Black Matte | 20" x 10" | 6x5.5 | 4.75" | -18 mm | $310.00 |
| | D55720008547 | BD -Black Matte | 20" x 10" | 5x5.5 | 4.75" | -18 mm | $310.00 |
| | D55720008947 | BD -Black Matte | 20" x 10" | 6x135 | 4.75" | -18 mm | $310.00 |
| | D55720901750 | BD -Black Matte | 20" x 9" | 8x170 | 5" | 1 mm | $325.00 |
| | D55720901857 | BD -Black Matte | 20" x 9" | 8x180 | 5.75" | 20 mm | $325.00 |
| | D55720905650 | BD -Black Matte | 20" x 9" | 5x150 | 5" | 1 mm | $325.00 |
| | D55720905657 | BD -Black Matte | 20" x 9" | 5x150 | 5.75" | 20 mm | $325.00 |
| | D55720907350 | BD -Black Matte | 20" x 9" | 5x5.0 | 5" | 1 mm | $295.00 |
| | D55720907357 | BD -Black Matte | 20" x 9" | 5x5.0 | 5.75" | 20 mm | $295.00 |
| | D55720908250 | BD -Black Matte | 20" x 9" | 8x6.5 | 5" | 1 mm | $426.00 |
| | D55720908257 | BD -Black Matte | 20" x 9" | 8x6.5 | 5.75" | 20 mm | $295.00 |
| | D55720908350 | BD -Black Matte | 20" x 9" | 6x5.5 | 5" | 1 mm | $325.00 |
| | D55720908357 | BD -Black Matte | 20" x 9" | 6x5.5 | 5.75" | 20 mm | $325.00 |
| | D55720908950 | BD -Black Matte | 20" x 9" | 6x135 | 5" | 1 mm | $426.00 |
| | D55720908957 | BD -Black Matte | 20" x 9" | 6x135 | 5.75" | 20 mm | $295.00 |
| | D55815006537 | GD -GunMetal Matte | 15" x 10" | 5x4.5 | 3.75" | -43 mm | $254.00 |
| | D55815007337 | GD -GunMetal Matte | 15" x 10" | 5x5.0 | 3.75" | -43 mm | $175.00 |
| | D55815008337 | GD -GunMetal Matte | 15" x 10" | 6x5.5 | 3.75" | -43 mm | $175.00 |
| | D55815008537 | GD -GunMetal Matte | 15" x 10" | 5x5.5 | 3.75" | -43 mm | $175.00 |
| | D55815806537 | GD -GunMetal Matte | 15" x 8" | 5x4.5 | 3.75" | -18 mm | $239.00 |
| | D55815807337 | GD -GunMetal Matte | 15" x 8" | 5x5.0 | 3.75" | -18 mm | $165.00 |
| | D55815808337 | GD -GunMetal Matte | 15" x 8" | 6x5.5 | 3.75" | -18 mm | $168.00 |
| | D55815808537 | GD -GunMetal Matte | 15" x 8" | 5x5.5 | 3.75" | -18 mm | $168.00 |
| | D55816806545 | GD -GunMetal Matte | 16" x 8" | 5x4.5 | 4.5" | 1 mm | $190.00 |
| | D55816807345 | GD -GunMetal Matte | 16" x 8" | 5x5.0 | 4.5" | 1 mm | $190.00 |
| | D55816808345 | GD -GunMetal Matte | 16" x 8" | 6x5.5 | 4.5" | 1 mm | $259.00 |
| | D55817856545 | GD -GunMetal Matte | 17" x 8.5" | 5x4.5 | 4.5" | -6 mm | $325.00 |
| | D55817857345 | GD -GunMetal Matte | 17" x 8.5" | 5x5.0 | 4.5" | -6 mm | $325.00 |
| | D55817857350 | GD -GunMetal Matte | 17" x 8.5" | 5x5.0 | 5" | 6 mm | $232.00 |
| | D55817858345 | GD -GunMetal Matte | 17" x 8.5" | 6x5.5 | 4.5" | -6 mm | $325.00 |
| | D55817858350 | GD -GunMetal Matte | 17" x 8.5" | 6x5.5 | 5" | 6 mm | $325.00 |
| | D55817858545 | GD -GunMetal Matte | 17" x 8.5" | 5x5.5 | 4.5" | -6 mm | $325.00 |
| | D55817858950 | GD -GunMetal Matte | 17" x 8.5" | 6x135 | 5" | 6 mm | $248.00 |
| | D55818901750 | GD -GunMetal Matte | 18" x 9" | 8x170 | 5" | 1 mm | $286.00 |
| | D55818901857 | GD -GunMetal Matte | 18" x 9" | 8x180 | 5.75" | 20 mm | $286.00 |
| | D55818905650 | GD -GunMetal Matte | 18" x 9" | 5x150 | 5" | 1 mm | $259.00 |
| | D55818905657 | GD -GunMetal Matte | 18" x 9" | 5x150 | 5.75" | 20 mm | $376.00 |
| | D55818907350 | GD -GunMetal Matte | 18" x 9" | 5x5.0 | 5" | 1 mm | $376.00 |
| | D55818908250 | GD -GunMetal Matte | 18" x 9" | 8x6.5 | 5" | 1 mm | $376.00 |
| | D55818908257 | GD -GunMetal Matte | 18" x 9" | 8x6.5 | 5.75" | 20 mm | $260.00 |
| | D55818908350 | GD -GunMetal Matte | 18" x 9" | 6x5.5 | 5" | 1 mm | $286.00 |
| | D55818908357 | GD -GunMetal Matte | 18" x 9" | 6x5.5 | 5.75" | 20 mm | $286.00 |
| | D55818908550 | GD -GunMetal Matte | 18" x 9" | 5x5.5 | 5" | 1 mm | $259.00 |
| | D55818908557 | GD -GunMetal Matte | 18" x 9" | 5x5.5 | 5.75" | 20 mm | $259.00 |
| | D55818908950 | GD -GunMetal Matte | 18" x 9" | 6x135 | 5" | 1 mm | $259.00 |
| | D55818908957 | GD -GunMetal Matte | 18" x 9" | 6x135 | 5.75" | 20 mm | $259.00 |
| | D55820007347 | GD -GunMetal Matte | 20" x 10" | 5x5.0 | 4.75" | -18 mm | $457.00 |
| | D55820008347 | GD -GunMetal Matte | 20" x 10" | 6x5.5 | 4.75" | -18 mm | $310.00 |
| | D55820008547 | GD -GunMetal Matte | 20" x 10" | 5x5.5 | 4.75" | -18 mm | $310.00 |
| | D55820008947 | GD -GunMetal Matte | 20" x 10" | 6x135 | 4.75" | -18 mm | $310.00 |
| | D55820901750 | GD -GunMetal Matte | 20" x 9" | 8x170 | 5" | 1 mm | $426.00 |
| | D55820901857 | GD -GunMetal Matte | 20" x 9" | 8x180 | 5.75" | 20 mm | $325.00 |
| | D55820905650 | GD -GunMetal Matte | 20" x 9" | 5x150 | 5" | 1 mm | $426.00 |
| | D55820905657 | GD -GunMetal Matte | 20" x 9" | 5x150 | 5.75" | 20 mm | $325.00 |
| | D55820907350 | GD -GunMetal Matte | 20" x 9" | 5x5.0 | 5" | 1 mm | $426.00 |
| | D55820907357 | GD -GunMetal Matte | 20" x 9" | 5x5.0 | 5.75" | 20 mm | $426.00 |
| | D55820908250 | GD -GunMetal Matte | 20" x 9" | 8x6.5 | 5" | 1 mm | $325.00 |
| | D55820908257 | GD -GunMetal Matte | 20" x 9" | 8x6.5 | 5.75" | 20 mm | $426.00 |
| | D55820908350 | GD -GunMetal Matte | 20" x 9" | 6x5.5 | 5" | 1 mm | $426.00 |
| | D55820908357 | GD -GunMetal Matte | 20" x 9" | 6x5.5 | 5.75" | 20 mm | $325.00 |
| | D55820908950 | GD -GunMetal Matte | 20" x 9" | 6x135 | 5" | 1 mm | $325.00 |
| | D55820908957 | GD -GunMetal Matte | 20" x 9" | 6x135 | 5.75" | 20 mm | $426.00 |