American Racing AR614 Outlaw Wheels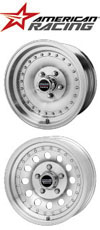 American Racing Outlaw Wheels are perfect for your truck or SUV if you want to convey and off-road, rugged feel to yourride. They make a strong statement to the beholder with their solid construction and lack of cut-outs, perfect for off-roading ormudding. American Racing Outlaw Wheels have a machined finish with a clear coat, and offer a lifetime structural warranty as well as aone-year warranty on the finish. Trust American Racing to provide solidly-constructed and well-designed wheels for your truck. Afterall, they've been in the industry since 1956 and are trusted by generations of loyal customers.
For fitment, availability and current pricing email us. If you don't see the wheels you are searching for, call or email us, chances are we have the American Racing Outlaw Wheels / Rims you want in stock. We offer guaranteed lowest prices and friendly customer service.
FREE SHIPPING
Please note: We cannot sell a wheel that is smaller than the factory wheel on your vehicle.
Image
Part #
Finish
Size
Bolt Pattern
Backspacing
Offset
Price
AR614761
Machined With Clearcoat
14" x 7"
5x4.75
5x120.65
4.00"
0 mm
$130.54
AR614765
Machined With Clearcoat
14" x 7"
5x4.5
5x114.30
4.00"
0 mm
$130.54
AR615161
Machined With Clearcoat
15" x 10"
5x4.75
5x120.65
4.00"
-38 mm
$167.14
AR615165
Machined With Clearcoat
15" x 10"
5x4.5
5x114.30
4.00"
-38 mm
$167.14
AR615173
Machined With Clearcoat
15" x 10"
5x5.0
5x127.00
4.00"
-38 mm
$167.14
AR615183
Machined With Clearcoat
15" x 10"
6x5.5
6x139.70
4.00"
-38 mm
$167.14
AR615185
Machined With Clearcoat
15" x 10"
5x5.5
5x139.70
4.00"
-38 mm
$167.14
AR615761
Machined With Clearcoat
15" x 7"
5x4.75
5x120.65
3.76"
-6 mm
$150.06
AR615765
Machined With Clearcoat
15" x 7"
5x4.5
5x114.30
3.76"
-6 mm
$150.06
AR615773
Machined With Clearcoat
15" x 7"
5x5.0
5x127.00
3.76"
-6 mm
$150.06
AR615861
Machined With Clearcoat
15" x 8"
5x4.75
5x120.65
3.75"
-19 mm
$153.72
AR615865
Machined With Clearcoat
15" x 8"
5x4.5
5x114.30
3.75"
-19 mm
$153.72
AR615873
Machined With Clearcoat
15" x 8"
5x5.0
5x127.00
3.75"
-19 mm
$153.72
AR615883
Machined With Clearcoat
15" x 8"
6x5.5
6x139.70
3.75"
-19 mm
$153.72
AR615885
Machined With Clearcoat
15" x 8"
5x5.5
5x139.70
3.75"
-19 mm
$153.72