American Racing AR893 Mainline Wheels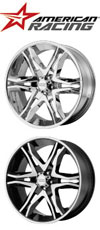 American Racing Mainline Wheels come in both chrome and glossblack machined finishes. Their classic 6-spoke configuration provides traditionalyet cutting edge styling in a modern, efficient wheel. Crafted of one-piece aluminum, the American Racing Mainline Wheels provide low weight and high strength. Gain the confidence of having purchased a quality American Racing wheel, a company that has been in business since 1956 and who is known for their quality custom wheels.
For fitment, availability and current pricing email us. If you don't see the wheels you are searching for, call or email us, chances are we have the American Racing Mainline Wheels / Rims you want in stock. We offer guaranteed lowest prices and friendly customer service.
FREE SHIPPING
Please note: We cannot sell a wheel that is smaller than the factory wheel on your vehicle.
Image
Part #
Finish
Size
Bolt Pattern
Backspacing
Offset
Price
AR89328512335
Gloss Black Machined
20" x 8.5"
5x4.5
5x114.30
6.13"
35 mm
$272.06
AR89328550235
Chrome Plated
20" x 8.5"
5x5.0
5x127.00
6.13"
35 mm
$391.62
AR89328550335
Gloss Black Machined
20" x 8.5"
5x5.0
5x127.00
6.13"
35 mm
$272.06
AR89328563235
Chrome Plated
20" x 8.5"
6x135
6x135.00
6.13"
35 mm
$391.62
AR89328563335
Gloss Black Machined
20" x 8.5"
6x135
6x135.00
6.13"
35 mm
$272.06
AR89328568215
Chrome Plated
20" x 8.5"
6x5.5
6x139.70
5.34"
15 mm
$391.62
AR89328568235
Chrome Plated
20" x 8.5"
6x5.5
6x139.70
6.13"
35 mm
$391.62
AR89328568315
Gloss Black Machined
20" x 8.5"
6x5.5
6x139.70
5.34"
15 mm
$272.06
AR89328568335
Gloss Black Machined
20" x 8.5"
6x5.5
6x139.70
6.13"
35 mm
$272.06
AR89368068200
Chrome Plated
16" x 8"
6x5.5
6x139.70
4.50"
0 mm
$247.66
AR89368068300
Gloss Black Machined
16" x 8"
6x5.5
6x139.70
4.50"
0 mm
$163.48
AR89378012325
Gloss Black Machined
17" x 8"
5x4.5
5x114.30
5.48"
25 mm
$173.24
AR89378063225
Chrome Plated
17" x 8"
6x135
6x135.00
5.48"
25 mm
$270.84
AR89378063325
Gloss Black Machined
17" x 8"
6x135
6x135.00
5.48"
25 mm
$173.24
AR89378068200
Chrome Plated
17" x 8"
6x5.5
6x139.70
4.50"
0 mm
$270.84
AR89378068225
Chrome Plated
17" x 8"
6x5.5
6x139.70
5.48"
25 mm
$270.84
AR89378068300
Gloss Black Machined
17" x 8"
6x5.5
6x139.70
4.50"
0 mm
$173.24
AR89378068325
Gloss Black Machined
17" x 8"
6x5.5
6x139.70
5.48"
25 mm
$173.24
AR89388512330
Gloss Black Machined
18" x 8.5"
5x4.5
5x114.30
5.93"
30 mm
$206.18
AR89388563230
Chrome Plated
18" x 8.5"
6x135
6x135.00
5.93"
30 mm
$309.88
AR89388563330
Gloss Black Machined
18" x 8.5"
6x135
6x135.00
5.93"
30 mm
$206.18
AR89388568212
Chrome Plated
18" x 8.5"
6x5.5
6x139.70
5.22"
12 mm
$309.88
AR89388568230
Chrome Plated
18" x 8.5"
6x5.5
6x139.70
5.93"
30 mm
$309.88
AR89388568312
Gloss Black Machined
18" x 8.5"
6x5.5
6x139.70
5.22"
12 mm
$206.18
AR89388568330
Gloss Black Machined
18" x 8.5"
6x5.5
6x139.70
5.93"
30 mm
$206.18